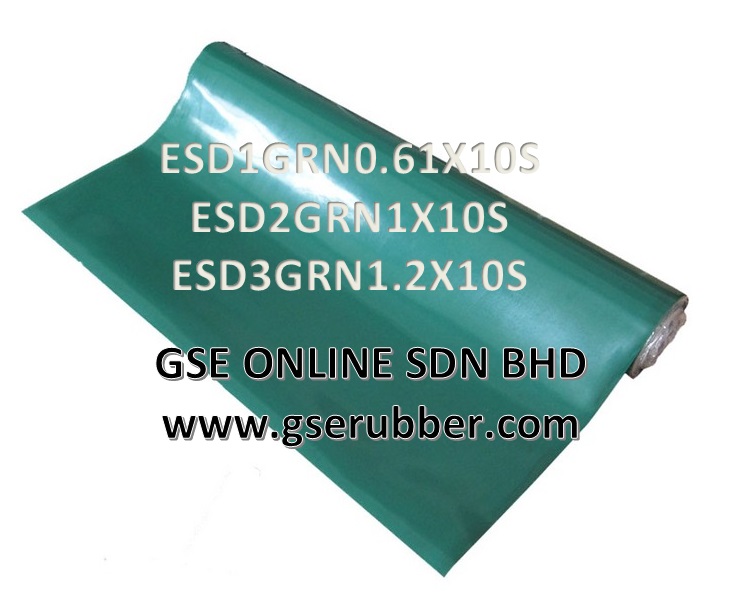 Copyright © GSE ONLINE SDN BHD ( 1116968-P ) ALL RIGHTS RESERVED
RoHS 2 DARK GREEN ESD Mat




A) Product Name




Dark Green RoHS-2 ESD Rubber Mat



B) Raw Material


100% Natural Rubber





C) Purpose


To prevent equipment damage resulting from the triboelectric voltage of the static dissipative



D) Scope


Ideal for use in Workstations, Electronic Manufacturing, Pharmaceutical Plants, Cleanrooms, Fiber Optics, Electronic Assembly, Electronic Warehousing, Circuit Assembly, Aerospace, CMOS chips, microprocessor, semiconductors, dish drivers, composites, LCD screen products, circuit product lines, hospitals and Pharmaceutical industries, precision instrument etc.



E) Characteristics


1 ) The anti-static mat comprises two layers; the top layer, dark green, is static dissipative, and the Black bottom layer is conductive.

These ESD mats offer excellent resistance to oil, grease and most common solvents, hot solders and soldering irons.


​
2) Features:-
​On 4th June 2015, Commission Directive (EU) 2015/863 was published in the Official Journal of the European Union (OJEU) to include the phthalates ( BBP, DBP, DEHP and DIBP ) into ANNEX II of the RoHS Recast Directive.
The new law restricts each phthalate to no more than 0.1% in each homogeneous material of an electrical product.

The anti-static properties of the mat are according to the relative requirements of SJ/T 10694-1996.
The surface resistance of the static dissipative layer ( 1.0 x 10e6 ~ 10e9 Ω )
The surface resistance of the conductive layer ( Below 1.0 x 10e6 Ω )
Volume resistance ( 1.0 x 10e6 ~ 10e9 Ω )
The triboelectric surface voltage of the static dissipative material < 200 V
The time of static discharging below 100V should be less than 1 second.
3) Model No. :

HTESD2GRN1X10S

,
4) Compliant to GB/T14437-97.
5) RoHS compliant.
6) Top Layer Material:

Dark Green

( 100% Natural Rubber ),
Bottom Layer Material: Black ( 100% Natural Rubber ).
7) Surface Resistivity :
a) Top ( 1.0 × 10 ⁷ ~ 1.0 × 10⁹ Ohms )
b) Bottom ( 1.0 × 10 ²~ 1.0 × 10 ⁶Ohms )
8) Hardness ( IRHD, Micro Hardness Tester Wallace )
a) Top Green Layer: 70 ± 5° ( Shore A )
b) Bottom Black layer: 70 ± 5° ( Shore A )
9)

Overall Thickness: Minimum 2.00 mm


10) Surface Finishing: Glossy ( Shining ) only​



F) Specifications


​1)

Model No. : HTESD2GRN1X10S

, ~2mm ( Thickness ) x 1,000mm ( 1m ) ( Width ) x 10,000mm ( 10m ) ( length ) / roll, weight around 30kgs / roll, Shining / Glossy Dark Green,

SGS Test Report: CRSSA/191024297-CA23579


​
​


​Disclaimer :
​* Note : Users need to evaluate suitability for their industries use ( applications ) before placing order from us .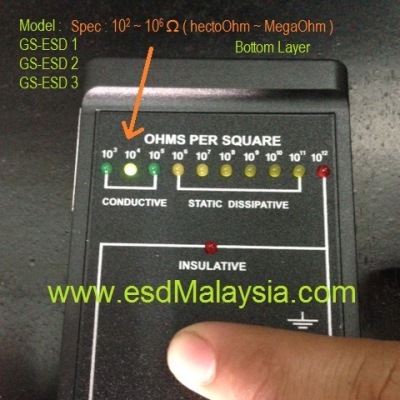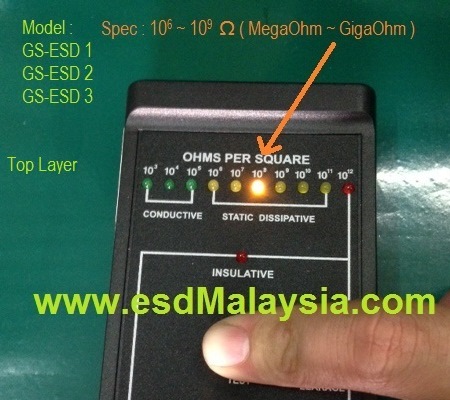 Model No. :
​​HTESD2GRN1X10S

A) The ten substances restricted under RoHS 2 are namely:
1) lead,
2) mercury,
3) cadmium,
4) hexavalent chromium,
5) polybrominated biphenyls (PBB)
6) polybrominated diphenyl ethers (PBDE),
7) bis(2-ethylhexyl) phthalate (DEHP),
8) butyl benzyl phthalate (BBP),
9) dibutyl phthalate (DBP),
10) diisobutyl phthalate (DIBP)
the restriction of DEHP, BBP, DBP and DIBP will apply from

22nd July 2019

; other substances could be restricted in future. The substances covered by RoHS 2 are scientifically well researched and evaluated and have been subject to different measures both at Union and at national level.

B) The eleven categories of EEE ( Electrical and electronic equipment ) are large household appliances (category 1), small household appliances (category 2), IT and telecommunications equipment (category 3), consumer equipment (category 4), lighting equipment (category 5), electrical and electronic tools (category 6), toys, leisure and sports equipment (category 7), medical devices (category 8), monitoring and control instruments including industrial monitoring and control instruments (category 9), automatic dispensers (category 10), and other EEE not covered by any of the categories above (category 11).