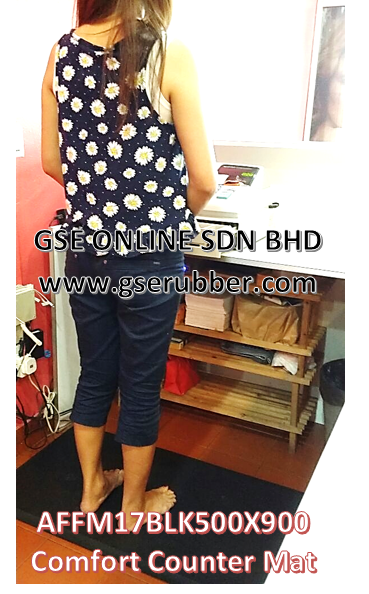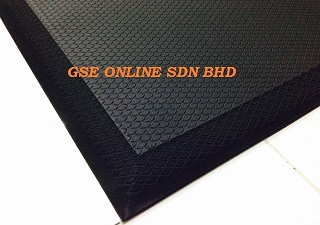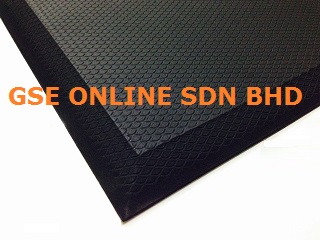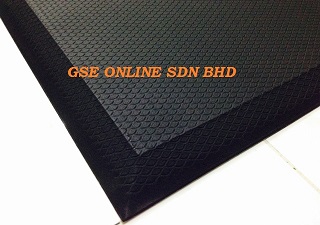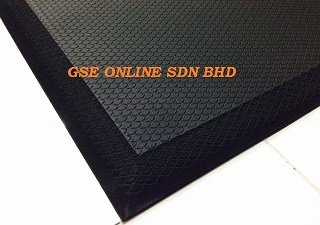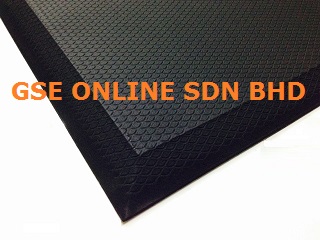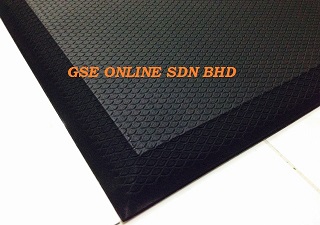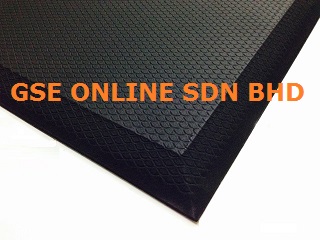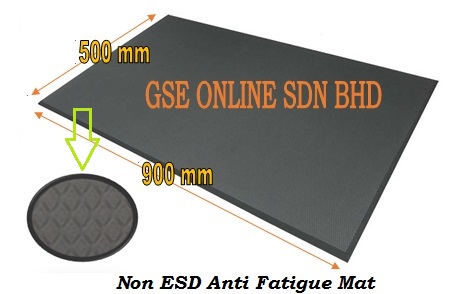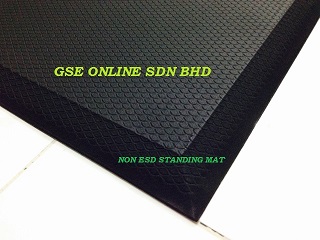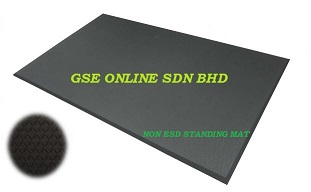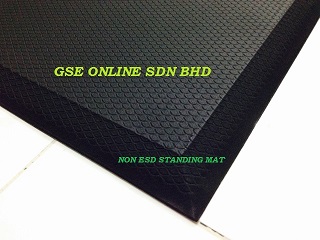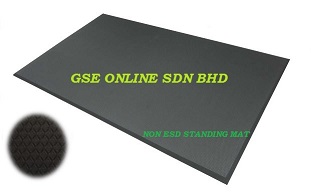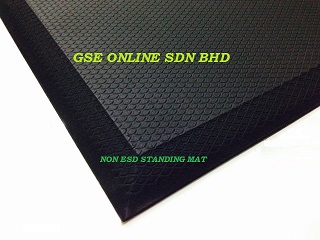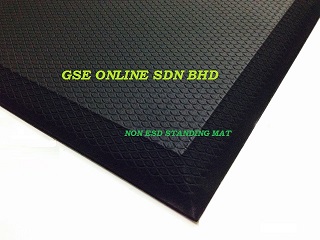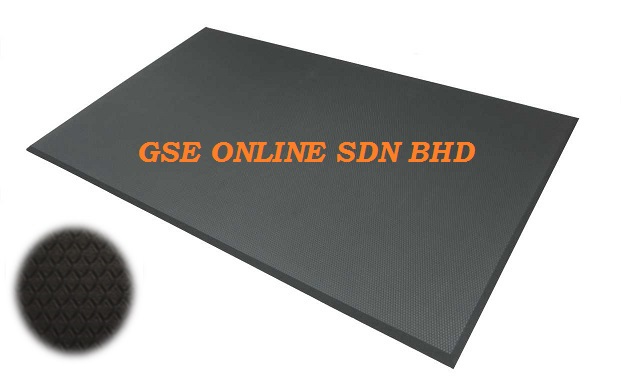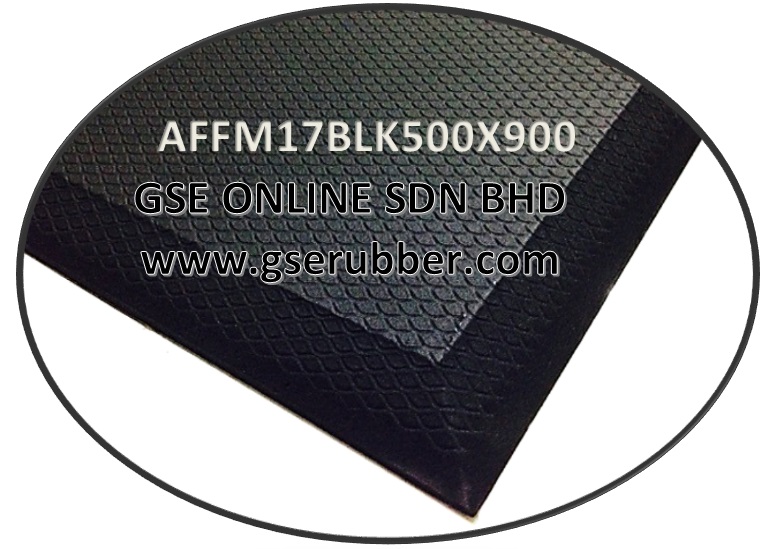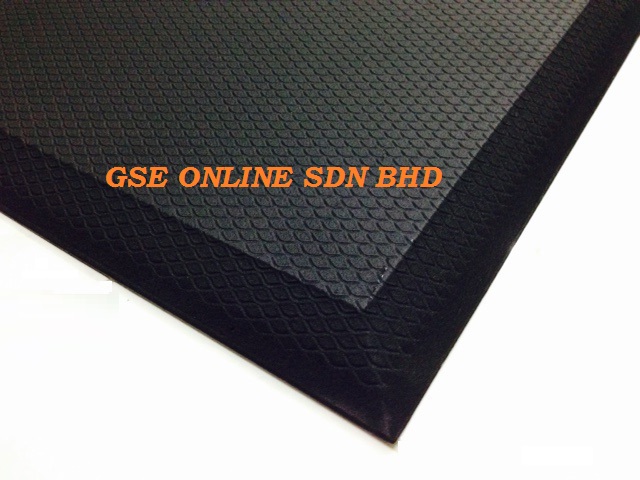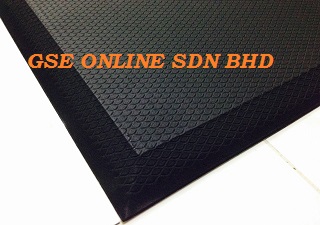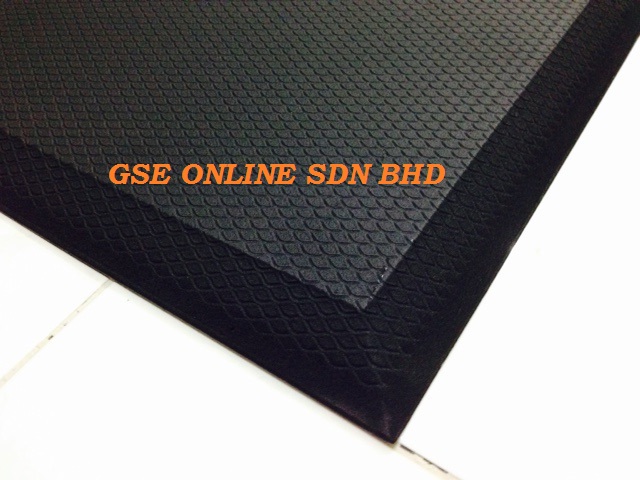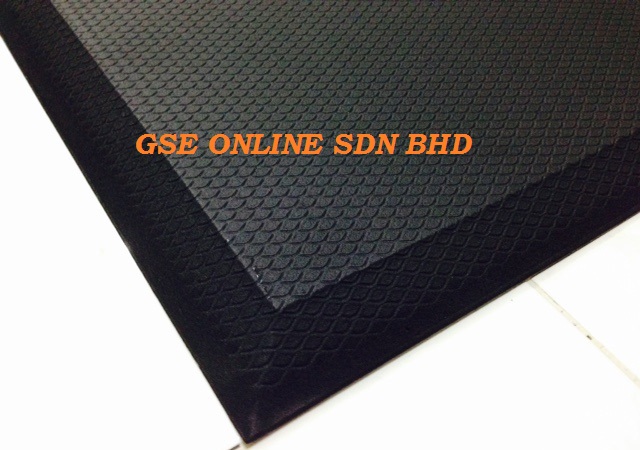 ESD Anti Fatigue Foam Mat ( Warehouses / Counters / Manufacturing Sites or as
Anti Fatigue Cushion pads for long standing jobs

)
( ESD Standing Comfort Mat )

What are anti-fatigue mats ?
Why use anti-fatigue mats ?
What should be considered first when a person stands all day at work ?
When should anti-fatigue mats be used ?

Comfort Level :

EXCELLENT​​
Copyright © GSE ONLINE SDN BHD ( 1116968-P ) ALL RIGHTS RESERVED
H) Order procedures
1) Cash & Carry ( ex-factory )

OR

2) Formal PO issuance :-
Step 1 ) , Issue PO and fax to ( 03-2178 4747 ) / e-mail to ( sales@gserubber.com ) .
( follow quotation number above in your PO , Leadtime : Within 1 ~ 7 working days ) ( * subject to GSe stock level )

Step 2 ) Contact / e-mail GSe Sales office for proforma invoice and payment arrangement in advance before collection .

Estimated weight : ~ 2 kgs / pc



A) Product Name




ESD Anti Fatigue Rubber Foam Mat ( ESD Standing Comfort Mat )





B) Raw Material :


Rubberized Foam



C) Purpose


Anti fatigue Mat is suitable for assembly lines and other workplaces required ESD / Non ESD characteristics to reduce individual workers' fatigue from long-standing jobs.



D) Scope


Ideal for use in long standing jobs , like home kitchens , restaurants , hotels , speaker stages ( Podium Stage ) , Lecture Speaker stage ( Seminar ) , cashiers , counters , exercise pads ,

cleanrooms

,

static sensitive electronic devices workplaces

, guests waiting rooms , receptions etc



E) Characteristics


1) Germ proof formula with water , oil and chemical resistant .

2) Rubberized Foam with specified gravity of about 0.2 g/cm³ and Hardness : 15 - 20 Shore C , Soft type .

3) ​ Single layer closed Cell Structure Foam &

Odour-less

.

4) ​High shock absorption strength, anti-slip and soft-material characteristics, by adding rubber properties to reinforce pulling and tearing strength .
​
5) Available in Black color only .

​​6) Resistivity readings at 10e6 ~ e9 ohm .



F) Specification


1) Brand :

ESD-KØMFØRT

, Model No. :

ESDAFFM17BLK500X900

, ~17mm ( Thickness ) x 500mm ( Width ) x 900m ( length ) ( include slope ) / pc , weight around 2kgs / pc



G) Rate Offer & Order




​Disclaimer :
​* Note : Users need to evaluate suitability for their industries use ( applications ) before placing order from us .


Model No. : ESDAFFM17BLK500X900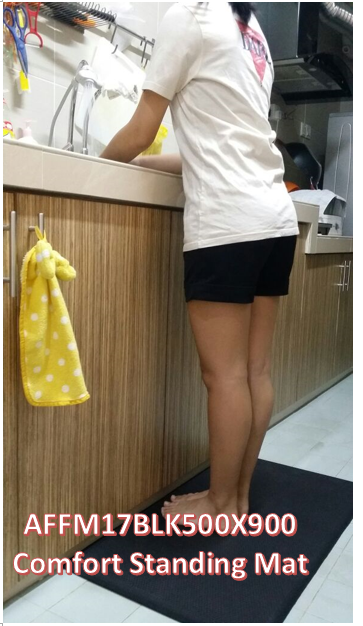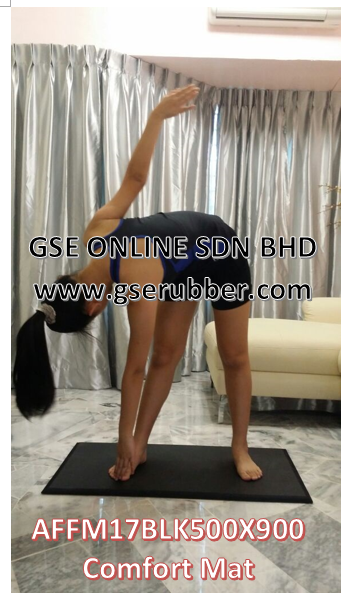 What are ESD anti-fatigue Standing Comfort mats ?
Anti Fatigue Standing Comfort Mats, also known as Anti Fatigue Floor Mats, are made of ( ~17mm ) thick closed-cell

ESD Rubberised foam

material designed to provide comfort and reduce worker fatigue .
​This mat is the most economical anti fatigue mat available &

EFFECTIVE

.

The mats are designed to reduce fatigue that is caused by standing for long periods on hard surface ( l.e , cement floors ) .

Fatigue-reducing mats

can be made of various materials including rubber, carpeting materials, vinyl, and wood , particularly with soft surface & Minimal Anti - Slip pattern .
The sponge base encourages subtly movement of leg and calf muscles which in turn promote blood flow back to the heart.

The soft surface of the mat provides a simple manipulation of areas of the feet. This in turn relieves tension and breaks up patterns or stress in other parts of the body to an amazing extent.

Why use ESD anti-fatigue ( ESD Standing Comfort ) mats ?
Anti-fatigue mats are often used

to decrease foot weariness for workers who stand in one position for long periods

. However, providing ONLY a mat may not solve the entire problem.
​Discomfort, tiredness, and sore feet after long hours of standing are the combined effect of several factors, namely the design of the work, the workers' footwear, and the flooring material.
​

According to scientific data, standing for long periods of time is particularly stressful and fatiguing

. Regardless of the quality of shoes and quality of the floor covering, standing itself can cause tiredness after an entire working day.

What should be considered first when a person stands all day at work ?
When considering the use of anti-fatigue mats, there are other factors that should be considered at the same time, such as allowing changes in working/standing position, footwear, and flooring.

When should anti-fatigue mats be used ?
There are two options to alleviate foot discomfort where resilient floors are not practical.

​​1) One is footwear with thick insulating soles and shock-absorbing insoles.

2) Anti-fatigue matting is the other option.

Anti-fatigue Standing Comfort mats absorb the shock

due to walking and this cushioning effect reduces foot fatigue. However, the use of matting requires caution because mats can lead to tripping and falling accidents when installed improperly.

Another type of floor covering, namely, anti-slip matting, is useful in increasing foot comfort and safety. However, workers may find that their feet burn and feel sore of the " gripping " anti-slip top surface , the top " gripping " anti slip surface should be minimal , because the non-slip properties of anti-slip matting cause their shoes to grab suddenly on the flooring, making their feet slide forward inside the shoes. Friction inside the shoes produces heat which creates soreness. Non-slip resilient insoles can reduce this discomfort.



In summary, the use of anti-fatigue mats or placing carpeting on the floor does not eliminate sore feet by itself, but, when combined with proper work design and quality footwear, it should improve working conditions.



Anti Fatigue Mats have proven to create a safer and more productive workplace by:

1) Reducing Slip and Fall injuries.
2) Reducing glass and material breakage when anything falls on mats.
3) Reducing back pain and stress when standing for long periods of time.
4) Increasing productivity by giving comfort.
5) Preventing injury and fatigue.

In specific applications, anti-fatigue standing comfort matting is a great option where small vibrations or sound absorption is needed. It is also used in numerous applications under heavy duty manufacturing equipment.
For Commercial / Household Use